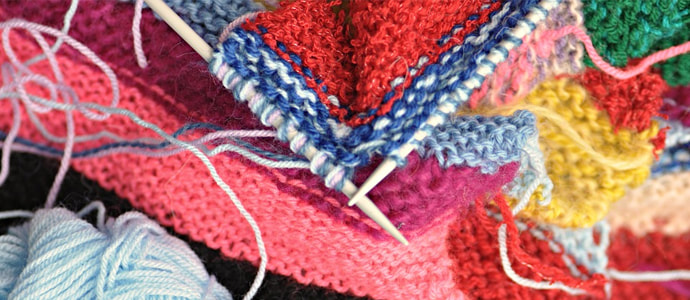 When I was first diagnosed with breast cancer, I had already returned to knitting several years earlier after a break of many years. Knitting projects were great to bring along on business trips and I spent many hours knitting in hospital rooms as my father's health declined. There was an exciting new social media platform for knitters and the recent resurgence in the craft meant that wonderful fibers and tools were easily available, both in brick and mortar shops and online. Socks were my main project of choice, although scarves, hats, cowls, baby blankets, and sweaters had also made their way onto my needles.
But suddenly I was faced with a scary diagnosis. Now, my little projects were worked on in waiting rooms—waiting for doctors, scans, blood work, and consultations. I couldn't always fully concentrate on my project, but having one to pull out and knit a few stitches on moved my thoughts away from the fear and worry I was feeling.
So, I began a year of treatment. Surgery, chemo, more chemo, more surgery, and finally, radiation. Through it all, I kept knitting. There were difficulties, of course—restlessness during chemo sessions, post-surgical pain and recovery, and losing most of my fingernails—but I did my best to power through and pick up my needles as each issue resolved. I joined an amazing support group, Knitters with Breast Cancer, on Ravelry (an online community of knitters) and found my hand virtually held through every step of the way by the wonderful women there. Knitting is relaxing and can almost be meditative when I knit at home, listening to music. And once my treatment was over, I joined a few local knitting groups and connected with yet more wonderful women.
I also began to volunteer at Bay Area Cancer Connections, where I've worked on their Helpline for two years now. When discussions came up about starting a knitting group there, I was more than happy to help get it started and gather together some easy patterns people can work on. Now I lead this group and we meet twice monthly: the second Tuesday of the month from 2:00–4:00 p.m. and on the fourth Thursday from 6:00–8:00 p.m. Everyone is welcome to join! I can get beginners started on a washcloth or shawl, or you are welcome to bring your own project. There is little structure—just a group of women sitting in the BCC living room, knitting and chatting away. Our topics range from our own experiences with breast cancer to travel to how to tell the difference between a knit and a purl stitch.
I hope that you can join us!
​
This knitting circle, "Knit One, Purl Two", is not a support group or group therapy.
About Me
Catherine first learned to knit during the six months she attended school in Ireland. Starting with a sock and using white wool was probably not the best introduction to knitting. She took it up again in earnest when she traveled for her job as an engineering director. She freely admits that she is a yarn addict, and her husband and three sons are well supplied with hand-knit socks. Catherine is a two-time breast cancer survivor and volunteers weekly for BCC's Helpline.