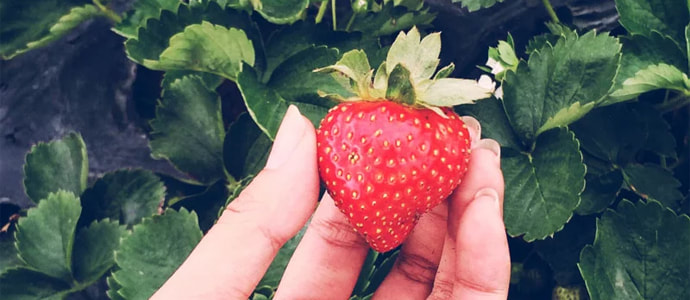 Eating seasonally is kind of my thing—you could say that it borders on obsession. You could also say that I'm a food and nutrition geek…you'd be right. Here are a few reasons why I'm a big proponent of eating seasonally:
1) Seasonal produce is often grown locally and is therefore fresher because it hasn't traveled nearly as far as when it's not in season. For example, imagine you are eating tomatoes in March. With some certainty, I would predict that those tomatoes are from either Florida or Mexico (as long as you're in the States). It's also possible that they're grown in a greenhouse. Those Florida tomatoes are picked underripe and green and then shipped across the country (they look like apples according to Barry Estabrook, author of Tomatoland: How Modern Industrial Agriculture Destroyed Our Most Alluring Fruit). They are then gassed with ethylene to artificially ripen them. Eating tomatoes that are local and in season would avoid the CO2 gasses emitted due to those hundreds or maybe even thousands of miles traveled.
2) Seasonal produce, grown locally, tastes significantly better than when it's picked unripe. The example that I provided about tomatoes above also applies to most fresh produce. They can look fresh and tasty but are almost always flavorless. Have you ever tasted a garden strawberry or freshly picked peach (or insert your favorite fruit or vegetable)? There is no comparison in taste.
3) Seasonal produce is fresher and fresher produce has more nutrients. For example, author Jo Robinson educates readers that a significant amount of nutrients in broccoli are lost within the first 24 hours after harvesting. Imagine if that broccoli was picked a week ago so that it could travel to you? It might look fresh, but it sure wouldn't be providing you with the vitamins, minerals, and phytonutrients that you were hoping it did. (By the way, I highly recommend her fascinating book Eating on the Wild Side: The Missing Link to Optimum Health.)
4) Get your fill of in-season produce. In Barbara Kingsolver's book, Animal, Vegetable, Miracle, she discusses eating tomatoes so much while they're in season that you almost become sick of them. You don't crave them as much during the off season and you're not tempted to eat a tasteless, mealy tomato in January because your tomato craving has been satiated for the year. I love this way to view it and have really tried to adopt this mentality since reading her book in 2011.
5) Seasonal produce promotes local jobs and boosts our local economy. This one is pretty straightforward. I'd like to emphasize that it would be great to extend the "Shop Small" and "Made in America" movements to the food and produce that we consume each day.
I hope that you're inspired to go to your local farmer's market this weekend and get some local food! CSA (community supported agriculture) boxes are filled with farm fresh produce and are delivered straight to your door. If you're interested in a CSA box you can check out www.localharvest.org to see what's available in your area.
Here's a fun, seasonal recipe for spring! Try it out and please share your pictures and thoughts with us! @bayareacancer @cleaneatingwithkatie
Strawberry Chia Seed Pudding
1 can full-fat coconut milk
2-4 tbsp. chia seeds (2 for a thinner pudding and 4 for a thicker pudding)
10-15 organic strawberries, rinsed and halved
1 tsp. vanilla
2 tbsp. raw honey
Directions:
Place coconut milk, chia seeds, and strawberries in food processor (or high speed blender) and pulse until it becomes a smooth consistency.
Add the vanilla and honey. Pulse until just incorporated.
Place into small jars and store in refrigerator for 1-2 hours or overnight. Chia seeds become gelatinous and will thicken the pudding as it sits. It can also be eaten right away.
Modifications:
There are many other options for chia seed pudding. Try experimenting with other seasonal fruits like peaches, raspberries, pears, blueberries, and even pumpkin. Also consider adding nuts, other seeds, and spices. The possibilities are endless!
In health,
Katie
About Me
Katie is enthusiastic about helping people maintain health and vitality through whole-food based nutrition, customized supplementation, and wellness coaching. She received her certificate as a Nutrition Consultant through California state-certified Bauman College Holistic Nutrition and Culinary Arts. She is skilled in gluten-free and paleo-centered cuisines. Katie is also a Certified 21-Day Sugar Detox Coach and leads regular monthly detox groups. She has been following a paleo diet and has been gluten-free since 2012. She practices yoga, hikes, swims, runs, and cycles. She is also a breast cancer survivor. Katie and her husband, Jim, live in Santa Clara, California, with their dogs, Jax and Molly. You can reach Katie at www.cleaneatingwithkatie.com or cleaneatingwithkatie@gmail.com. ​