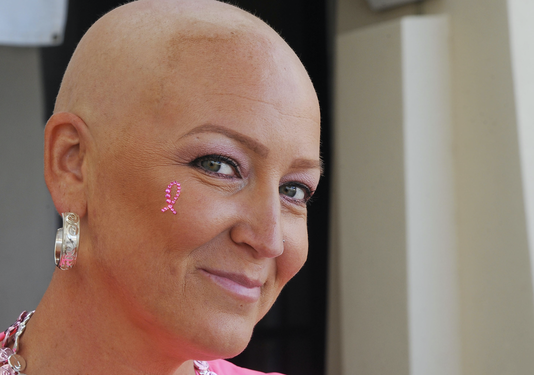 Results from the IMpassion 130 clinical trial show that there is benefit to adding immunotherapy to chemotherapy in the treatment of metastatic triple-negative breast cancer (TNBC). This phase III clinical trial randomized 902 people with untreated metastatic TNBC to treatment with either chemotherapy or chemotherapy plus immunotherapy. The immunotherapy drug used in the study was atezolizumab (Tecentriq), which blocks a protein called PD-L1 that is expressed by some cancer cells. By blocking PD-L1, the drug takes the brakes off the immune system, enabling immune cells (T cells) to attack the tumor. The trial showed that among people with PD-L1-positive tumors, addition of atezolizumab to chemotherapy improved progression free survival (the time before the cancer started growing) and overall survival. Average progression-free survival was 7.5 months in the group treated with chemotherapy plus immunotherapy, versus 5.0 months in the group treated with chemotherapy alone. Average overall survival was 25 months in the combined therapy group versus 15.5 months in the chemotherapy alone group. This study marks the first time that a targeted immunotherapy drug has been shown to improve overall survival in metastatic TNBC. Based on these results, in March 2019 the FDA granted accelerated approval of atezolizumab in combination with chemotherapy for the treatment of metastatic PD-L1-positive triple-negative breast cancer.
(Abstract GS1-04) Highlights from the 2018 San Antonio Breast Cancer Symposium
By Anh Diep, VMD, PhD Candidate, and Erika Bell, PhD, Manager of Medical Information, Bay Area Cancer Connections
​In early December 2018, thousands of researchers from across the world convened in San Antonio, Texas, for the 41st Annual San Antonio Breast Cancer Symposium. This five-day symposium brought together experts in basic, translational, and clinical research; clinicians; and patient advocates to present and discuss advances in breast cancer research and treatment. As progress in breast cancer continues, the challenges remain: to personalize treatment based on characteristics of the cancer, to minimize over- and under-treatment, and to maximize quality of life. This article highlights several of the talks from the 2018 symposium that are most likely to have a direct impact on the clinical care of breast cancer patients. For access to complete symposium resources, including abstracts, posters, and presentations, visit sabcs.org.