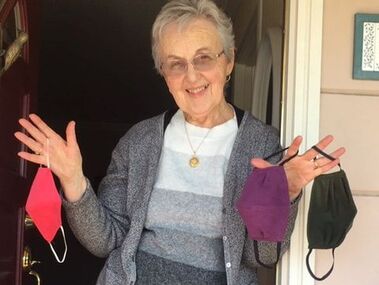 Regina Bortolus epitomizes the humble 'angel' among us. As a member of Mani di Angeli, a group within the Italian American Women's Guild, she has led a group of dedicated women who have spent many hours creating and sewing dolls for pediatric wards at local hospitals and heart pillows for newly diagnosed clients of Bay Area Cancer Connections (BACC).
In the midst of COVID-19, Regina, the lead seamstress for the group, has now added making masks to her many talents…
---
The idea to make the masks came from her friend, Lubiana, also a member of Mani di Angeli, whose daughter works at Kaiser Permanente and told her mother about the urgent need for masks for their nurses and doctors. Copying the medically approved model of the mask, she has produced more than 200 masks to share with Kaiser Permanente, Mills-Peninsula Hospital, and Stanford Hospital.
"I am a seamstress by trade and this is helping keep me sane," Regina said. "I have not been out in five weeks, but my gracious neighbors have been delivering my supplies and groceries."
​
She has been especially resourceful in finding supplies to make the masks from covered wire in her garden supply box, to gathering elastic from her daughter-in-law who works at Joann's Fabrics.
​
The Kaiser staff has been extremely thankful and even offered to pay Regina, who replied, "Just say a prayer for me."
BACC honored Mani di Angeli as our Volunteer Group of the Year in 2019 for the work they do sewing hundreds of hearts pillows for our clients each year. These pillows are useful after someone has had a mastectomy, lumpectomy, or for added comfort while they are receiving chemotherapy.
These incredible volunteers are a wonderful part of our BACC community. We are so grateful for the time and talents that Regina and the other members of Mani di Angeli contribute to BACC.